You are cordially invited to the 2017 International Conference on Unmanned Aerial Vehicles in Geomatics UAV-g 2017. This is the fourth event of the series UAV-g Conferences following the very succesful meetings in 2011 in Zurich, Switzerland, in 2013 in Rostock, Germany and in 2015 Toronto, Canada. The UAV-g 2017 is an ISPRS event.
---
Using small Unmanned Aerial Vehicles (UAV) as data acquisition platforms and autonomous or semi-autonomous measurement instruments has become attractive for many emerging applications.The aim of UAV-g 2017 is to bring together experts in photogrammetry and remote sensing, surveying, robotics, computer vision, artificial intelligence, aerospace engineering, geosciences and various UAV user communities.  UAV-g is a great opportunity to learn about the most recent developments and to exchange views on the future directions of UAV in geomatics research, applications and services.
Researchers, developers, service and systems providers as well as users are invited to contribute with presentations, posters and discussions to create synergies between research and applications using UAV in Geomatics. Here, are some of the topics given priority, among others:
Platforms, payloads and instruments for photogrammetry and remote sensing,
Navigation and position/orientation determination,
Light-weight GNSS,
Dense image matching and surface reconstruction,
3D reconstruction from oblique images,
3D reconstruction from range sensors,
Simultaneous localization and mapping,
Cooperative UAV/UAV and UAV/UGV systems,
Low altitude thematic remote sensing and environmental mapping,
UAV control,
Obstacle sense and avoidance,
Autonomous flight and exploration,
On-line and real-time processing,
Sensor and data fusion Monitoring, tracking and change detection,
Semantic scene interpretation,
Technology challenges and applications,
Regulations
Please visit the Call For Papers.
Post-conference publication opportunity
Special Issue on Latest developments, methodologies and applications based on UAV platforms

This Special Issue will also feature selected papers from the UAV-g 2017 conference. Authors wishing to have their work considered for this issue, including those not able to present at the conference, should contact the guest editors (see call for papers).
The UAV-g 2017 conference is an event of the ISPRS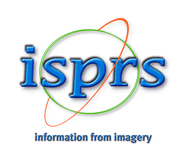 Supported by